Salman Khan- The Mega Star
"They say we are too young to love, but maybe they're just too old to remember."

– 
Wiz Khalifa
This is what we thought when we saw an innocent love story unfold in front of our eyes, when Maine Pyaar Kiya was released. The love saga had the same element of rich vs old, but still manages to tug heartstrings, after nearly 25 years of its release. With this beautiful love story entered into our hearts, the intense-eyed lover, with the air of a bad boy and just the right twinkle of flirt, Salman Khan.
Though there had been a debut of his before this, but that mostly went unnoticed, and then, he was rocket launched into the hearts of millions of girls, as Prem, the lover who stayed.
 A Launching Pad That Went Amiss, And Then, The Grand Debut
Not many know that Salman's actual debut was in a Farooq Sheikh-Rekha starrer Biwi Ho To Aisi, in a supporting role as Farooq's character's younger sibling. Though villainous at first, this character had been shown to transform and mend its ways as the story progressed. However, this small role, though acknowledged, went by unnoticed. But there was one young director who shared this young lad's trust to prove himself, under the tag of just being a famous person's son. And we were treated with a beautiful story of young love. Directorial debut of the very talented Sooraj Barjatya, and acting debut of one of the greatest superstars Indian Cinema would ever see, Salman Khan.
A Romantic Endeavour Continued
Salman's Casanova lover image fit so well with all his characters, that he played the same successfully in many more movies that came subsequently, and how the audience loved his brat act. Pathar ke Phool, Sanam Bewafa, are shining examples of how this lover boy image was enough to set the box office ringing. The major turn came in his career with the movie Saajan.
The love triangle, with melodious songs to support a beautiful love story, it became one of the biggest blockbusters of the year. Salman was especially appreciated for his character which changes from a carefree Casanova to someone who understands the true meaning of love, and sacrifices it for someone he loves even more. This was a welcome change from all the typical roles he had been playing till then, and earned him much critical acclaim.
Somersaulted the Sassy Devar
In the year 1994, Salman joined hands with Sooraj Barjatya again, and when the debut 5 years ago was so memorable, this had to be something bigger and better. The Barjatya's recreated their own movie Nadiya Ke Paar, this time, though with bigger and more glamorous sets.
Salman played the naughty devar, a Casanova with a golden heart, who falls in love with witty saali, Madhuri Dixit. This movie went on to become the biggest blockbuster of the decade, and also a cult, for almost all the weddings to come. Every guy secretly wanted to flirt around and ease his way into the heart of damsels at weddings, a la Salman way.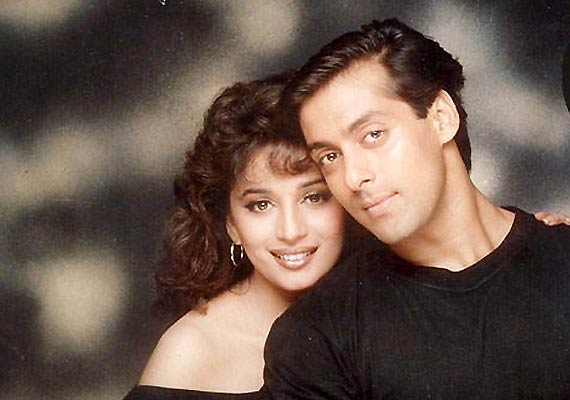 When His Andaaz-e-Ooimaa floored Us With Hiccupy Laughter
In 1994 came the movie Andaz Apna Apna, and though it bombed then, we just can't thank Rajkumar Santoshi enough to give us this epic cult comedy which can tickle our funny bones even now, after repeated watchings. Santoshi's funny take on Prem, showed us a funny side of this otherwise intense romantic lover, and we loved him even in this avatar.
Who can forget the silly duo of Amar-Prem after all. Their body language, dialogues, sign language, antiques, every single thing about their characters in the movie has been, as How I Met Your Mother's Barney Stinson would have put it..Legen…wait for it…Dary.
A Day At Salman Khan House- Interview
The Reincarnation Saga
In the year 1995, came along Rakesh Roshan's Karan Arjun, which proved to be another milestone in Salman's career. Though a multi-starrer, Salman's character matched Shahrukh's step by step, and they both gave a memorable performance as brothers who rise from the dead to avenge their father's murder and mother's injustice. The only sad part was, that following this movie, began a long dark period of this superstar's career.
Salman, the hero who conquered our hearts with his carefree and lovable Casanova acts, was due for a downhill career before the lights ultimately shone on him. Even then, like a superstar he was, he fought through all the battles and emerged the winner. Find out more in our second part of these Bollywood Superstar's journey in Indian Cinema.
Written By – Kadambari Srivastava